RWB;3458430 skrev:
Its the...

The buckaroo of the badlands!
The maverick of the Montana castle wars!
The Pizen of Pizen Bluff!
The Terror of the Transvaal!
The orneriest cuss in the outback!
The cowboy captain of Cutty Sark! The King of the Klondike!

It's [SIZE="3"]Scrooge McDuck[/SIZE], the richest and most tight-fisted duck of all!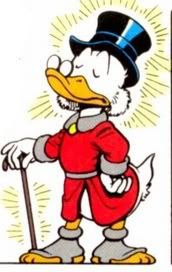 I've decided to use the Don Rosa take of Scrooge, and use the 88 year old Scrooge from the comic "A letter from home."

This fellow left Glasgow, Scotland at 13 years old to make his fortune. He had no luck until he finally struck it rich in Klondike, where he also met the love of his life, Goldie O'Gilt. He
then successfully made it as a corporate manager. Making really good affairs, his fortune grew.
Sadly, when he performed his only plain-out dishonest act to gain money, his sisters and hesplit. He planned to make amends in Duckburg but was sidetracked for a total of 23 years. When hefinally made it home his sisters were there waiting for him, together with his staff and others (including young Donald Duck and his twin sister Della Thelma Duck).
Scrooge was to ashamed to be able to talk with them, and adopted a grumpy attitude, and his sisters left, swearing never to meet him again. He also got a kick in his backside by little Donald. As of now, 25 years later, Scrooge has finally met up with one of his sisters and explained himself.

He is supposedly the greatest adventurer to ever walk the earth, and he made his money square by being tougher than the toughies and smarter than the smarties, let's hear it for Scrooge McDuck!

Stats:

Size: **
He is about a meter tall, which means he's two about thirds of Mario's height

Weight: **
He is a duck, and as such quite light.

Speed: ****
For an 88-year old he is reamarkably athletic, but it's nothing compared to how he was back inKlondike. His attack speed isn't that particularly good. His movement is quick, however.

Power: ****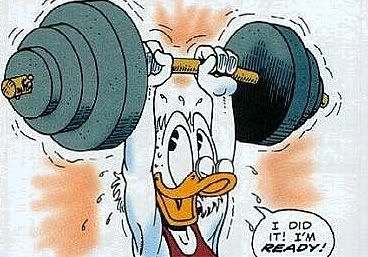 He is quite strong for being so old. He has been far stronger, though.


Range: ***
He is kinda small, but he reaches out quite a bit.

Fall Speed: **
As a bird, being floaty makes sense. (There falco, I said it XD)

Traction: ****
He doesn't really slide around.

Jumps: Pretty good! He's a bit to old for walljumping, though.

Specific differences: Scrooge have something I would call "Grab Cancel" in quite a number if his moves, even airborne ones, although these force him to throw the opponent within a matter of a few frames(to make him unable to just grab-suicide) . (In the comics, his primary way of fighting is throwing people around). Like DK, Scrooge can carry enemies around.

--------------------------------------------
Moveset:

Standard Combo (A, A, A/Z ):
hits enemy with his cane, but the third attack is a hard one, or a grab.

Dash Attack:
Scrooge pounces on the enemy(if you click Z when you are about to hit, he grabs the enemy), and rolls automatically when he hits the ground(If you didn't grab).

Tilt Attacks:

(Up)
A kick directed upwards, here's a pic: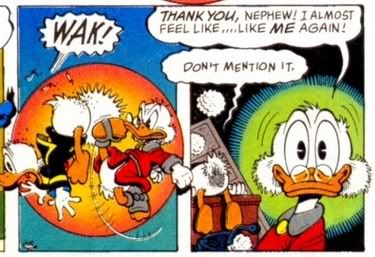 Good damage and knockback for a tilt.

(Forward)
Draws out a sword and performs a quick horizontal slash. As he kind of crouches, this makes him harder to hit. Good range, but not that powerful. Based on the swordfighting in "The new Laird of Castle McDuck"
Pic: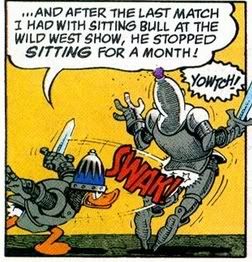 (Down)
Stabs his cane into the ground, causing a shockwave with minor knockback and decent damage. If you're hit by the cane itself, you get meteor smashed.

Smash Attacks:

(Up) Deals a fearsome uppercut. Somewhat slow startup, but excellent damage and knocback. Can be canceled into a grab by pressing Z while the attack is starting.

(Forward) This is faster than the Up Smash, and just as powerful, although the afterlag is quite long. Based of his punch towards Soapy Slick. Can be canceled into a grab by pressing Z while the attack is starting.
Pic:


(Down)
Does a hard blow with his hand downwards. hard to describe, but I have a pic. This attack is a little weaker than the other two smashes(still pretty strong), but faster, with low startlag and afterlag. Cannot be canceled.
Pic: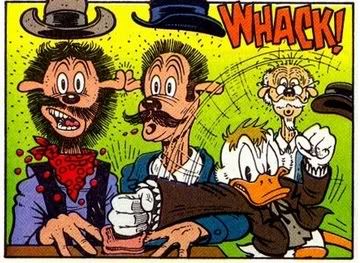 Aerial Attacks:

(Neutral) Scrooge hits the enemy with a golfclub, and sends them flying in a very strange way, a crescent moon, going in an upward motion. Good Knockback, but the awkward trajectory may make people avoid using this move. Not a very quick nair. not cancelable.
Pic:


(Up) A quick punch upwards(Cancelable). This is a good combo move, although it's far to weak to act as a killing move even at high %.

(Forward) Scrooge does a fast spin and then strikes the enemy with his cane. If canceled into a grab, he hooks them with the cane instead of striking them with it. The stike is pretty strong.

(Down) If you ever played Ducktales, you'll know this move. Scroge uses his cane as a pogo stick to jump on enemies. Kind of like Links, but Scrooge bounces a lot higher, and the attack is far weaker, although it is a meteor.

(Back) Scrooge does a quick stike backwards with his cane. not cancelable. Good knockback, but damage isn't that impressive.

Special Attacks:

(Neutral): Prospector Swing.
Scrooge swings his pick in front of him(Nevermind there's two in the picture). chargeable on the spot(Marth), but not moving charge(samus, DK). Quite damaging and powerful, hits enemy upwards.

Can be used for tether.
Pic:

Tether Pic:


(Up) Blazing Buck.

Pic:


As seen in "Terror of the Transvaal", Scrooge shoots upwards, blazing with anger. Scrooge can attack after doing this. The recovery isn't that good, as it shoots almost straight upwards, even if the distance it covers vertically isn't anything to scoff at. Pretty strong, fire effect.

(Forward) Marksman McDuck.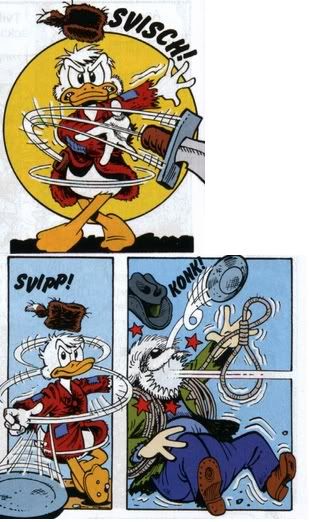 Scrooge picks forth either a dagger or a gold pan. Then he spins once and throws it, hard. This projectile flies far. The knife is quite damaging but doesn't do much knockback, while the pan has good knockback but only mediocre damage.

(Down) Yella Belly Waltz.
Pic: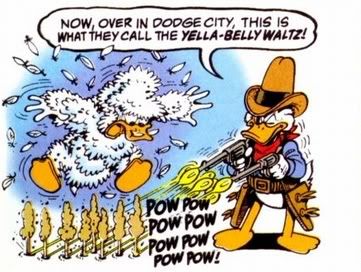 Scrooge picks forth two revolvers and shoots rapidly diagonally downwards a little bit in front of him. this does quite good damage if all shots hit, even if it doesn't have that good
knockback.

Throws:

(Grab)
Throws a lassoo at the enemy. If it is a cancel grab, he grabs with his hand(well mostly) instead. Damages by hitting with cane.

(Up) Merely throws opponent straight upwards. Not that powerful, but a good combo move.

(Forward) Scrooge winds back, then throws enemy forward. Quite good distance. This throw can be used after carrying enemies around.

(Back) This pic shows it the best: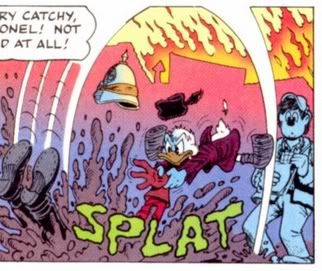 A rather damaging throw, with the ability to meteor if he happens to throw you offstage, otherwise you hit the ground and are sent flying upwards. Good knockback.

(Down) Scrooge performs a "Full McDuck" as shown in this pic: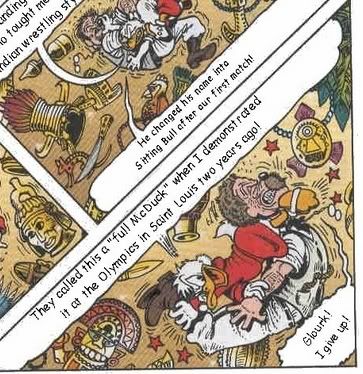 then he kicks the opponent away. Really damaging(for a throw), but not very powerful in knockback.

Aerial throws:

If you don't chose a direction, Scrooge loses his grip, and you might be open for an attack.

(Up)
Scrooge just hurls you upward. Not that strong or damaging.

(Forward)Is the same as on ground.

(Back) Scrooge sends you flying by by turning around and throwing you diagonally upwards. Pretty strong.

(Down) scrooge throws you downwards. A weak meteor.


Final Smash:



Unleashed, Reliving the old days!



Scrooge reverts back to 30 years of age!
He will now be wearing his Klondike getup, and he is much more powerful and faster than before, and has super armor.

He does not use his cane, but exchanges it for his pick. His B move now has a big shockwave if used on the ground, and is a crazy powerful spike.

Taunts:

(Up) Seen here:


(Forward) Scrooge looks at a blonde hairlock he is holding in his hand with a faraway look in his eyes.

(Down): Scrooge sneers at his enemies.

Victory poses:

1. Scrooge plays bagpipe. badly. All the other chars cover their ears.

2. Scrooge leans forward on his cane, muttering "Deadbeats", while looking very bitter.

3.Scrooge throws his cane up, spinning, and catches it on the way down.

Stage: ?

Music: ?

Items:

AT- Hortense
AT- Glittering Goldie

Boss:

-Flintheart Glomgold ( Might be an alternate costume though.)

-Magica de Spell

-Blackheart Beagle